I received a copy of this book through NetGalley in exchange for an honest review. All thoughts and opinions expressed here are my own.
Heya, nerds!
It's time to drop a truth bomb here: I've been a card-carrying member of Bachelor Nation for quite a while now.
You know I hate using the phrase "guilty pleasure", and I most definitely don't feel guilty about admitting that I absolutely love this trainwreck of a reality show (and all the spinoffs).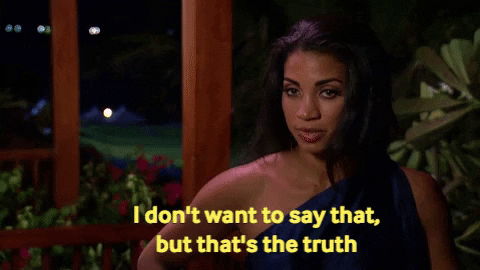 More than the romance in the show — and let's face it, it's heavily scripted romance — it's the drama that makes me continue watching. Remember #ChampagneGate? Tell me where else you can find quality cringe television like THAT.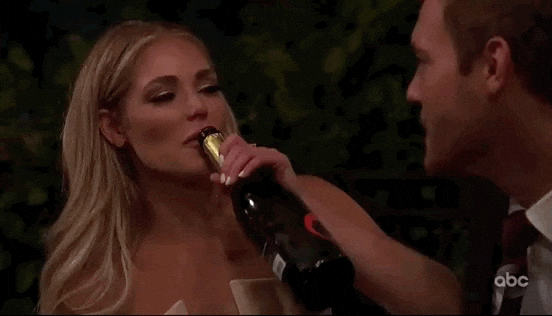 I don't care if the participants are not there for the right reasons only there to boost their Instagram following. I simply love the drama in the show. It's like one car crash after another and I'm HERE for it. And that's not where it ends. I also religiously follow all the recap blogs and YouTube channels, because a girl needs her drama!
In summary, I am O-B-S-E-S-S-E-D.
But what irks me most about the Bachelor franchise is that despite its 18 year history, there's a huge lack of diversity on the show. 40 seasons and there's only been one Black lead so far.
Season after season, The Bachelor has been about a white male with the personality of a Styrofoam cup romancing waif-thin beauty queens. The average woman in America is plus-size but somehow the show runners can't see that apparently.
Enter One to Watch.
Bea in One to Watch is a fat fashion blogger who is NOT here for the lack of representation on Main Squeeze, the Bachelor-esque show in the book. Here's what she tweets on watching an episode one night:
"Jayden is the whitest white man in history and every one of these girls is basically performance art of straight femininity…And obviously they could NEVER be above a size 4, Jayden's poor sad penis would break beneath the crushing weight of an average-sized woman."
In an alcohol-fuelled rage, she writes a huge rant blog post about the lack of body diversity on Main Squeeze that goes viral. And soon enough, the network reaches out to her about starring in the next Bachelorette Main Squeeze.
Bea, however, has sworn off dating altogether but agrees to do the show anyway. Once filming starts, she realises the show is not just about faking it all the way to the end. How she learns to get past her own mental blocks and let a man in forms the rest of the story.
Why I loved this book so much.
And no, it wasn't just because of all the Bachelor references.
Bea is fat. She's what we'd refer to as a "medium fat" on the fat spectrum and she loves her body. She's a fat woman working in fashion, who regularly writes about couture for all bodies. All of which we stan.
But my favourite part about Bea is she's painfully relatable, just the right mix of bravery and vulnerability. She's outspoken but she also makes mistakes and can be selfish. The book doesn't make her the Joan of Arc of fat girls as one Willowdean Dickson would say.
On the dating side, Bea has a few walls up. She loves her body, but she occasionally has a barrier up when it comes to accepting intimacy because ya know, society makes you think that just because you love your body, it doesn't mean anyone else will do too.
And I felt that.
She's extremely comfortable in her skin but she also always needs to be in an environment where she has control.
"For us, something as simple as posting an outfit-of-the-day selfie is a political action, and we have to live with all the people who feel entitled to comment on our bodies to tell us we're ugly, or unhealthy, or grotesque."
But despite any insecurities or slip-ups Bea has, the biggest message in this book is for women to not settle for anything less than what they deserve. And I'm absolutely in love with it for this.
TW: Fatphobia.
Let's face it. These reality shows get trolled a lot by viewers themselves (have you seen the comments about Clare Crawley's age?). In the Main Squeeze universe as well, putting a fat lead on the show gets trolls out of the woodwork. And Bea faces her fair share of fatphobia in the book. Some of it is blatant producer manipulation and obviously that's something you'd expect from a reality show like The Bachelorette.
Despite being billed as a romance, this book is not exactly escapist fiction, I have to say that. I read it a day after having gotten a fatphobic comment myself on this very blog (a kind gentleman told me that I shouldn't call out fatphobia in Harry Potter because "it's not about your fat arse".) so reading about Bea getting trolled and still not letting it get to her meant a lot to me.
If you're triggered by external fatphobia in books, I suggest you avoid this one. I personally have had a lot of horrible things said about my body growing up so watching a fictional character being unfazed (mostly) by it felt really good.
The representation.
It doesn't stop with Bea. She demands a diverse cast of men for her season and she more or less gets it. The book also has ace and aro representation and a gender nonconforming character. Main Squeeze/One to Watch really gives you the Bachelorverse we deserve with the representation.
There's even a virginity storyline and it's handled so tastefully, I couldn't help but compare it to the cringeworthy madness that was Colton's season.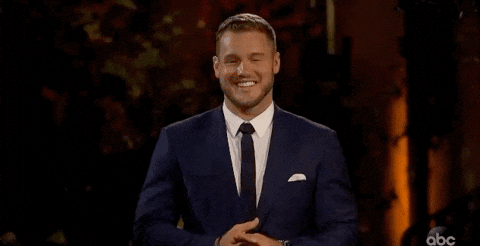 Aaaaand, the romance!
I may not watch The Bachelor for romance, but One to Watch/Main Squeeze will make you fall HARD. And the final four men? Chef's kiss, I tell ya.
"And [redacted] is totally your type."
"He's a smug know-it-all!"
"Correct! Your type!"
Every one-on-one date Bea had with these men, I kept going back on who I was rooting for. Kate is THAT good at writing romance. And this is only a debut! You know I'm going to be keeping an eye on her, because my god, does she serve up some sweet, sweet romance.
The contemporariness of it all.
One to Watch was also as contemporary a read as it can get. Bea rewatches Brooklyn Nine-Nine when she's down and a character refers to The Good Place as "a symposium on ethics and moral philosophy" and also calls it the best show on TV. How can you not fall in love with it, really?
The book is also interspersed with text chains, blog posts, Twitter threads, Slack groups, and podcast excerpts, which took the storytelling up a notch. As Bachelor trash myself, I thought these discussion threads and betting pools were spot-on. They got the tone of voice just right and were hella realistic.
All the Bachelor parallels.
You know I had to talk about it!
Dany from Ambivert Words had the misfortune of buddy reading this book with me. They've never watched an episode of The Bachelorette and I may or may not have permanently scarred them by chain texting them about all the parallels.
This book is sprinkled with winks to Bachelor superfans throughout. ABC is ABS, Mike Fleiss is Mike Faust, there's a Reality Stefan in place of our lord and saviour Reality Steve (I'd have loved some more of Stefan than just a single reference, gah!), and the lead announcement goes on Good Morning USA instead of GMA. The epigraph is literally a Chris Harrison quote.
Oh, and there's even a throwaway "doing this for the right reasons" at which point I threw my iPad down and hollered. Really.
And I hollered louder at the Ashley I. reference in the Acknowlegements (MORE PEOPLE SHOULD READ ACKNOWLEDGEMENTS). Ma'am really put the "icon" in Iaconetti.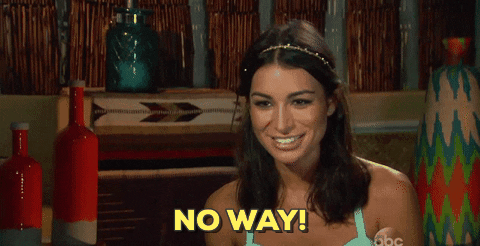 In summary…
Go read One to Watch, you cowards!
It gets all the stars!