I received a copy of this book from the author in exchange for an honest review. All thoughts and opinions expressed here are my own.
I love reading poems, especially by women. One of my favorite poets is Warsan Shire. She writes about feminism, immigration, dysfunctional families, and a lot more.
[Related: 9 Warsan Shire quotes that will speak to your soul.]
More Than a Memory is Ms. Bhagat's first published book of poems, and I can't wait to read more of her works. I can't wait until her name becomes as famous as Warsan Shire's. At least in India!
Goodreads synopsis:
Does injustice bother you? What could loving yourself look like? How can you live with claustrophobia?
"These poems are not just memories," Pragya writes, "they are my stories." In More Than a Memory Pragya takes you on a journey of self-discovery, one riddled with more questions than answers, more frustration than beauty. In her honestly-voiced poetry, she celebrates menstruation, compares a Shatabdi train to life, and writes letters to her future self.
While reading her eight intricately worded poems, you may cry, you may giggle, you may feel moved. Most importantly, you will realize how important it is to tell your stories.
Review:
At 74 pages, this book is a really quick read. You can finish it in under half an hour. That is, if like yours truly, you don't start adding little sticky note stubs to the poems where you started making seal noises. ¯\_(ツ)_/¯
In this book of poems, Pragya Bhagat compellingly writes about feminism, skin color, and life in general. My only problem with it? It ended too soon!
Here are some of my favorite parts from the book:
1. When I realized Pragya and I had a lot more in common than I thought:
you knew this then
you know this now
your downfall is your pride
your compulsive need to decide
on your own
to hide your affection behind the ill-fitted disguise
of not needing anyone by your side
2. On creeps on the streets
you've managed, with a single stare
to cause my inner strength
to disappear
to cremate my self-respect
on your pyre
of patriarchal power
3. On writing
this
is why
i write
to take the pieces that orbit and clash
and grind in my mind
and give them a path on which to unwind and
fly.
4. On life, which she compares to a journey on the Indian Shatabdi train.
ladies and gentlemen
may i have your attention please
train number one run four two through life
from conception to alleged end
via
the semblance of sanity
which is scheduled to arrive at a time
free of influence
from the alignment of the stars
is running
on time
it is expected to arrive here
at the platform number
listed on your ticket
just like the ticket of the person next to you
so while there's still some journey left
you might as well turn to your right and begin
with a smile.
Aren't these really good? Go buy the book today!
And let's all hope Ms. Bhagat writes more! The world needs as much poetry as it can get.
Grab your copy on:
Rating: 5 out of 5
---
General update: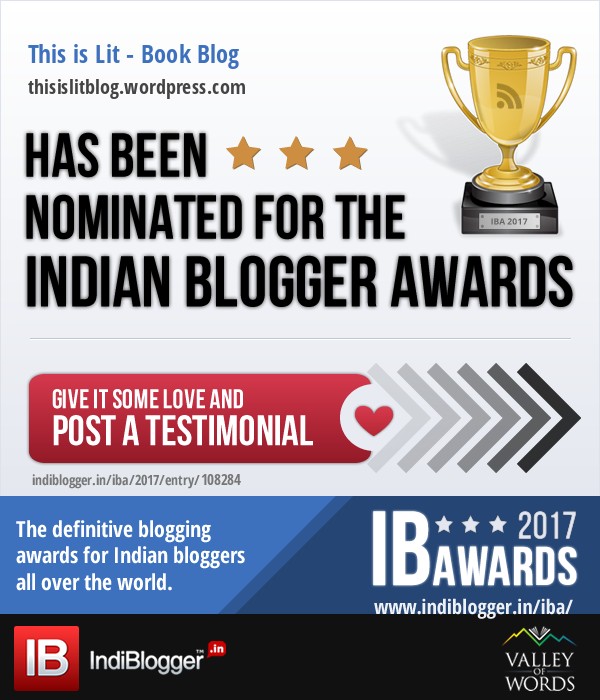 I've been nominated for the Indian Blogger Awards under 3 categories (books, humor, and blogger from Tamil Nadu). You can help me win by writing a testimonial about my blog. If my reviews have ever helped you, or if my posts have made you laugh, please leave a comment here.
---
What did you think of my review? Would you read the book? Let me know in the comments!
~ Shruti