I received a copy of this book from the author in exchange for an honest review. All thoughts and opinions expressed here are my own.
When Kathryn Bywaters first contacted me to ask if I'd be interested in reading The Past is Rising, I immediately accepted a review copy just based on the blurb. Soon after I replied to her email, I looked her up. This is not something I usually do, but I wanted to know if she'd written any other books or if this one's sequel was out. This is the page I read.
She has a Ph.D.! She works at NASA! And now, she has a book! Can an author have a more impressive background? More importantly, will the book be yet another achievement for Ms. Bywaters? Read my review to find out!
Goodreads synopsis:
The Past Is Rising is a compelling fantasy epic that revolves around the uprising of dark forces bent on wresting a kingdom from its rightful rulers. Several warriors will discover that their true destinies are to salvage their kingdom and defeat the rising evil.
At fourteen, Erik dreams of past glories. He was not alive when the False Kings marched against their nephew and laid siege to the city of Meraview. Now, perched on the outer wall, Erik imagines the two great armies battling on the plains outside the city. His excitement mounts as he spies a horse and rider racing to reach Meraview.
This lone messenger is Eve, cousin to the High King-and she brings troubling news. The False Kings, once again, are gaining power. When Eve leaves to spy on the False Kings, Erik and his friend Hobble follow her. Along the way, they will learn about lost regal bloodlines, battle against ancient magical forces, and make new allies in the fight against evil.
Sinister forces closely watch Erik and his new companions. Are these young people ready to face the return of the False Kings? Or will they simply be anonymous casualties in the coming war?
Review:
I was a little skeptical about reading this book because I've never been particularly interested in YA fantasy. I wanted to read this one just because it's wrong to ignore an entire genre because you "can't put a finger on why but don't really care for it". 😀
While the book started off a little slow, it picked up at the 30% mark. It is entirely plot-driven–you'll swiftly keep turning pages to find out what happens next. Too much focus on the plot, however, means there's too little time spent on characters. It would've been nicer to get insight into some of the characters' motivations.
The characters in this novel haven't been fleshed out well and can confuse a reader.  For example, there's a character named Hobble who is said to have fought in the first war 14 years back. Now, though, he clings like a baby to a soldier while their camp is being ambushed by 2 evil sisters. How was he able to survive the "dark war no one talks about, but a lot of people died", but not able to fend for himself? He was able to face dark forces once. Shouldn't he at least stand up straight and not be afraid the second time around? There were minor discrepancies such as this one, but overall they're forgivable, especially since this is the author's first book.
The fight scenes have been written realistically. Fighting a creature you can't touch? Whack the creature with a stick and tie it up! Like other novels, this one didn't have a foolish stunt (described with way too many adjectives and metaphors, of course). This was written neatly and in a much more realistic way.
Another fight scene that literally gave me the chills was towards the end. The good side is being chased by a murderous murder of crows (there's a sentence I never thought I'd say!). This was, hands down, the best few pages of the book. Read this book just so you can enjoy this awesome piece of writing from Ms. Bywaters!
The ending is a cliffhanger. I can't wait for the second book to release! I need to know what happens to our boi Erik.
To answer my question at the beginning of this review, YES, this is yet another achievement for Ms. Bywaters!
Rating: 3.5 out of 5
---
General update: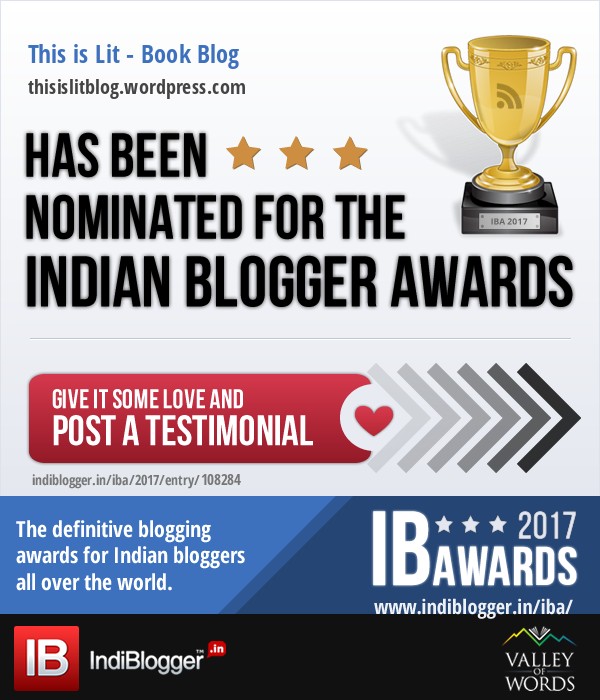 I've been nominated under 3 categories (books, humor, and blogger from Tamil Nadu) for the Indian Bloggers Awards 2017! You can help me win by writing a short testimonial about my blog. If you like my blog, please leave a comment here. 🙂
---
What did you think of my review? Would you read the book? Let me know in the comments!
~ Shruti