I received a copy of this book from the author in exchange for an honest review. All thoughts and opinions expressed here are my own.
When Adam contacted me about reviewing this book, the subject of the email said "Strange review request". And "strange" can be used to describe all the events in this book. Read on to find out more.
Goodreads synopsis: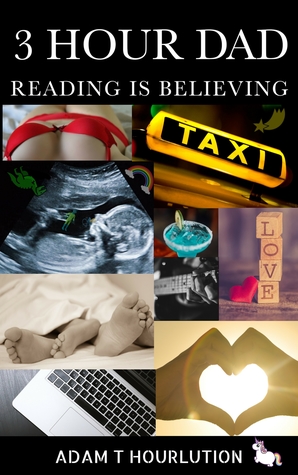 Based on actual events.
One day Adam, just your average, typical guy receives a call from his mother-in-law (to be !) summoning him to the hospital following his girlfriend being rushed in with suspected appendicitis only to discover that she is in fact having contractions and has been admitted to the labour ward.
This heart-warming and true story invites readers to step into Adam's shoes and experience what it is like to be a 3 Hour Dad.
A portion of sales are donated to a random act of kindness project. For more information please read the about me section at the end of the book.
Review:
3 Hour Dad is Adam's story of how he and his girlfriend just had three hours notice about the fact that they were going to become parents. You read that right. His girlfriend never realized she was pregnant until she had contractions (she thought it was appendicitis) and was wheeled into a labor ward. I have heard stories of women not knowing they were pregnant and carrying babies to term, but it was great reading a first-hand account of it.
This is a very small book and it's written in a refreshing and funny voice. It's also a fast-paced story and–at least to me–too fast-paced. I would've liked the author to slow down and go into details instead of just relaying events as they happened. Though I enjoyed reading this book, I was left wanting more.
A proportion of the sales of this book is donated to a random act of kindness fund. How amazing is that?
Rating: 3 out of 5
What do you think of my review? Let me know in the comments!
~ Shruti