Banned Book Club is a meme I host where we read one historically challenged book a month. We support free speech and fight censorship every chance we get. Join our Goodreads group and DM me on Twitter to join our group chat.
---
Book of the month: The Hate U Give by Angie Thomas
Banned for: Drug use and explicit language
---
Goodreads synopsis: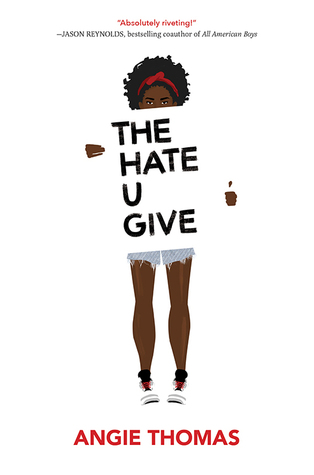 Sixteen-year-old Starr Carter moves between two worlds: the poor neighborhood where she lives and the fancy suburban prep school she attends. The uneasy balance between these worlds is shattered when Starr witnesses the fatal shooting of her childhood best friend Khalil at the hands of a police officer. Khalil was unarmed.
Soon afterward, his death is a national headline. Some are calling him a thug, maybe even a drug dealer and a gangbanger. Protesters are taking to the streets in Khalil's name. Some cops and the local drug lord try to intimidate Starr and her family. What everyone wants to know is: what really went down that night? And the only person alive who can answer that is Starr.
But what Starr does or does not say could upend her community. It could also endanger her life.
Review:
Inspired by the Black Lives Matter movement, this stunning novel by Angie Thomas spent 38 amazing weeks at the top of the New York Times' bestseller list. Very well deserved, I have to say!
Starr is from Garden Heights, a poor neighborhood, but she attends a rich and fancy school an hour away from home. She's constantly switching back and forth between Garden Heights Starr and Williamson Starr, changing the way she speaks to sound less black. This is something POC teens in mostly-white neighborhoods will definitely relate to.
On a car ride home from a party, Starr's childhood friend Khalil is shot and killed by a white cop right in front of her eyes. This is the story of Starr trying to get justice for Khalil and standing up for her community in the process.
One of my favorite things about this novel is how YA is used to to show something as serious as police brutality and racial profiling in the United States. Who said YA couldn't be serious and deal with important issues?
I found this book heartbreaking, yet uplifting. This is a groundbreaking novel that can start discussions about discrimination based on race, religion, or sex. The treatment of African Americans by cops in the US needs to change.
The world is bad enough. It doesn't need more systemic violence and racism in it. American law enforcement needs to take a long hard look at itself in the mirror and figure out how it's going to avoid one more Oscar Grant, one more Trayvon Martin…Michael Brown…Eric Garner.
Enough is enough.
~ Shruti
Facebook | Goodreads | Instagram | Twitter