I'm currently reading The Sound and the Fury by William Faulkner. Do you remember how I once wrote a whole post raving about Faulkner and said I wanted to start reading the guy's books? Yeah, that's not working out well for me. My first Faulkner read is a disaster. I don't get the book at all. Send help!
This made me really sad because of how much I was looking forward to reading (and loving) his books. Which is why I picked up this book to get out of my funk. The trailer had just dropped and as Netflix trash, I HAD to finish the book so I can be prepared for the movie.
Goodreads synopsis: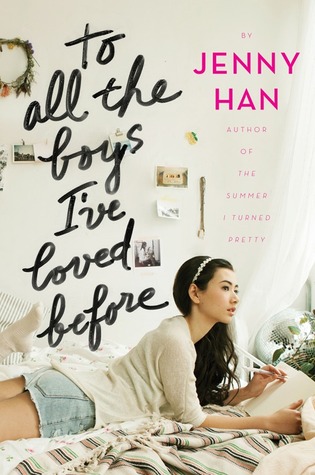 What if all the crushes you ever had found out how you felt about them… all at once?
Sixteen-year-old Lara Jean Song keeps her love letters in a hatbox her mother gave her. They aren't love letters that anyone else wrote for her; these are ones she's written. One for every boy she's ever loved—five in all. When she writes, she pours out her heart and soul and says all the things she would never say in real life, because her letters are for her eyes only. Until the day her secret letters are mailed, and suddenly, Lara Jean's love life goes from imaginary to out of control.
Review:
To All the Boys I've Loved Before is exactly the book I needed to snap out of my blogging slump. It was a light, funny read and I thoroughly enjoyed Lara Jean's story. Lara Jean is your average, awkward teenager. She writes goodbye letters to get over her crushes and I like this as a coping mechanism. But like every other YA storyline, something had to go wrong, and here, the letters get sent out. What follows is a fake relationship, some truths being revealed, light twists, and a happy ending.
One of my favorite parts about this book was the family dynamics–especially the siblinghood. Lara Jean's older sister moves away for college and she has to be the older sister now to the third Song sister, Kitty. From Lara Jean struggling to fill in her overachiever sister's shoes to her being mean to Kitty and immediately trying to apologize, this book is one of those rare YA treasures where sisterhood is portrayed realistically.
The book also had a couple of my absolute favorite tropes in fiction–fake couple becomes real and the arrogant guy is not so arrogant after all. I see a lot of Goodreads reviewers praising this book and calling it a "guilty pleasure". I wouldn't say that, though. You either like a book or you don't. Why call it a guilty pleasure and be ashamed of reading it, if you enjoyed reading it? I liked this book, period.
I also didn't like some things about this book. For example, Lara Jean's best friend appears just to move the story along. Kavinsky needs to resolve some issues with his ex, but we see nothing of it. And then there's the obvious written-this-way-to-help-the-plot part where Lara Jean writes the mailing addresses of all her crushes in their letters. Like, who does that?
Despite the negatives, this book was enjoyable and I'd recommend it if you, like yours truly, want to break out of a reading slump.
For now, I shall watch the trailer again and wait for the movie to drop on Netflix.
Rating: 4 out of 5
~ Shruti