Hiya, nerds!
Welcome to a new blog series on This is Lit where I give you advice on how you can use tried and tested content marketing strategies to crush it in the blogging world!
A little background.
Like every other Indian kid, I did engineering in uni. Sure, I thought Biomedical Engineering was cool and everything, but I didn't really see myself working in the field. I also had no idea what I was going to do with my life. Needless to say, my 4 years in uni was just one elaborate existential crisis.
Until, an epiphany struck me.
I had spent the last 21 years of my life learning a lot of things I didn't particularly care for, and yet, I was a straight A student and generally considered smart. What secret power did I have that made me seem smart when I actually wasn't?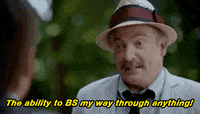 The ability to BS my way through anything, yes!
And isn't that the hallmark of a great marketer?
That's how I found myself working in product marketing. I've been doing it for the past two years, and I don't see myself getting tired of it!
Okaaaay, but how does blogging figure here?
All bloggers are content marketers! I've been blogging for as long as I've been working. While my domain at work is vastly different from my blog's, the strategy for writing content that's successful on the internet is the same everywhere. Well, almost the same.
And that's why, every Wednesday from today, I'm going to be talking about certain important content marketing strategies every blogger needs to know to make their blog successful.
Here are some of the topics that we'll be discussing in the coming weeks:
1. How to write a headline that'll get your blog post read.
If there's one thing I've learned from Copyblogger, it is that the goal of a headline is to get the first 2-3 lines of your copy read. I'll be giving you tips for how you can craft the perfect headline for every single blog post.
2. The importance of keyword research.
No matter how small your site is, you need to do keyword research. If you want your blog posts read, write them in a way that'll help them rank better on Google. And how do you do that? Well, you need to wait for this post to find out!
3. Two definite kinds of posts every blog should have.
Sure, you write a lot about varied topics on your blog. But they can all be classified under one of two categories. I'll be showing you what they are and which ones will help improve your stats, social sharing, and more.
4. Building your personal brand.
No, this has nothing to do with monetizing.
Your blog is your signature. It's your brand. I'm going to help you figure out how you can make your website reflect who you truly are.
5. Social media marketing for small-time bloggers.
Hey, I know our websites aren't anything large-scale. But, we still need those blog posts shared on social media. We'll be going into detail about how you can improve your social media efforts and get the views you need.
That's not all! We'll be discussing a lot more about content marketing and blogging. As the weeks go by, my plan is to convert this series into a Blogger FAQ/How-to set of posts. But that's for later.
For now, we're going to learn the different strategies we can use to make our blogs rank and do better!
Excited?
Let me know what you think in the comments!
~ Shruti