Heya, nerds!
Welcome back to another post in the Wednesday Wisdom series. With this post, we're officially moving from content marketing into book blogging territory.
I may be no seasoned book blogger, but I have been doing this blogging thing for more than 2 years now. I think I can give a few pointers to the newbies in the blogging world.
Also, whatever, you're stuck with me now.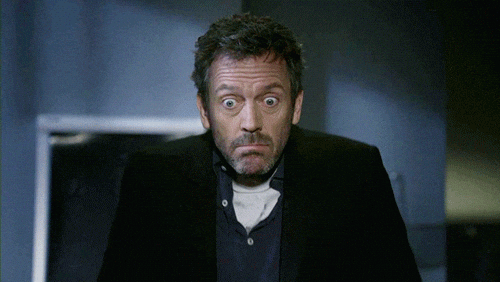 Anyhoo.
Let's face it. Just writing book reviews is not going to keep your audience hooked. I once complained about it in an entire post. While I don't have as much a problem with this fact now as I did back then, it still is the truth.
Don't get me wrong. We still want to hear your thoughts on books. But it's not just your book reviews for which your readers stay.
So what else do I write about?
I'm glad you asked, grasshopper. Here, take my hand. I'll show you all the different kinds of posts you can try.
Remember, as long as you're sticking to a style and niche, you can experiment with any kind of post. Some might work for you and won't for others. It's just a matter of putting it out there in the world and checking what works for you and your blog.
So here we go.
1. Write a discussion post.
Every blogger swears by discussion posts. I'm sure all the 10 blog post ideas articles you read before this one evangelised them too. And there's a reason why they do. Discussion posts do well universally.
Pick a polarising topic and write away! People love talking about their opinions and the proof can be found in your comments section.
2. Do a list post.
I've always expounded the power of listicles–I even wrote a list post explaining why list posts are important! They're easy to read and easy to create. And your stats boom each time you write a list post. Why do you think Buzzfeed is so successful?
3. Write a think piece.
Your blog is the place if you want to write personal opinions. And the blogging community loves getting to know your opinions about things! If you feel strongly about something, write it down! And hit publish!
If you need any more convincing, I have a weird relationship with Jodi Picoult. I love her, but only in small doses. I find her stories quite repetitive, and yet, she's one of my favourite authors. So I wrote about it. And a lot of people agreed with me.
I'm sure an opinion which you think is unpopular will still be relatable to some people. So go ahead and write about it!
4. Publish seasonal posts.
Birthdays, New Years, Thanksgiving, Christmas…they're all amazing days to post about your blogging journey, what you're thankful for, and just a general update about your life.
I personally love pranking my readers on April fools' day. Check those posts out here and here.
5. Participate in a tag.
There are a lot of tags floating around in the blogosphere. They're fun to do and you'll definitely enjoy participating in them. Make sure you don't post just tags on your blog, though. That's an immediate turn off to most people, including yours truly.
6. Write about an interesting observation you had about a book or an author.
It doesn't matter if you aren't the first person to make the observation. Tell us your personal thoughts on something. For example, I was reading Persuasion by Jane Austen when I realised there were a few dirty jokes in it. I did some research and found out that she made quite a few bawdy jokes in her books that none of us noticed.
So I wrote about it: Jane Austen made bawdy jokes and I can't even.
Spoiler alert: The post did quite well for itself. My proudest moment in the blogging world. 😛
7. Talk about yourself.
Who is the face behind your blog? What is your day job? When did you first start reading? Better yet, when and why did you start blogging? I see several post ideas here that could work out really well for you.
8. Write a how-to post.
Tutorials are evergreen! People always need help with something. Think you've found the secret to always getting accepted on NetGalley? Write about it. Do you know how to set up an Edelweiss account? Tell us. Figured out Google Analytics yet? Where can I sign up for lessons from you?
9. Interview an author.
If an author sent you a review copy that you loved, ask them if they'd like to be interviewed. They'll mostly say yes because it's more publicity for their book. And you get to pick their brains AND make a post out of it.
10. Open your blog up for guest posts.
Find a good blogger friend out there and ask them if they'd be willing to guest post on your blog. Or the two of you can collaborate on a post instead. It switches things up a bit and you get to direct their audience to your blog too. Win-win!
11. Share your favourite quotes.
A simple list post would do for this. I usually do this when I'm in a blogging slump. It's so easy to collate your favourite quotes by an author or poet. I've done both–one with P. G. Wodehouse and the other with Warsan Shire.
There you go! These are just a few types of posts you could try. Stay tuned to this space, for next week, I'll be sharing a pretty huge list of individual blog posts (not categories) that will hopefully inspire you to write your next blog post.
Until then, ciao!
~ Shruti