I received a copy of this book from Midas Public Relations in exchange for an honest review. All thoughts and opinions expressed here are my own.
Goodreads synopsis: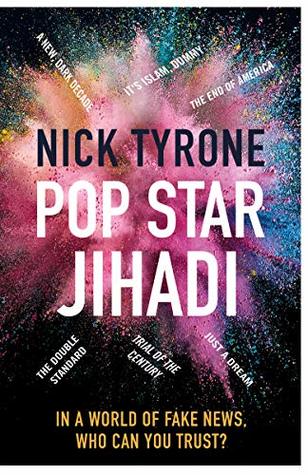 Summer, 2018. Noah Hastings, the most famous pop star on the planet, takes to the stage to perform a concert. After singing his latest hit, Noah detonates a bomb strapped to his chest, killing himself and ninety-one of his fans. Speculation about the pop star's motivation for the crime runs riot until the authorities pin the blame on fundamentalist Islam. But what happens when Noah's inspiration turns out to be another ideology entirely?
Nina Hargreaves, an investigative journalist, travels around America searching for the real story. She gets close to the truth – but risks losing everything she has in the process. R
Review:
When I was first approached about reviewing Pop Star Jihadi, I thought the title sounded a little glib. But the blurb was convincing and I went on to accept the review copy. After finishing the book, I have to say, it is completely serious and goes against the first impression the title and cover may give.
Pop Star Jihadi is about a pop singer, Noah Hastings, who goes onstage for his concert at Madison Square Garden with a bomb strapped to his chest. This singer-turned-suicide bomber detonates the bomb, killing himself along with 91 other fans. Several are injured. And the nation is left shaken to its very core, wondering what led to this.
This book is written entirely in the form of newspaper articles, blog posts, and editorials. We get to hear both Noah's side of the story and how it's interpreted by the world at large. The news articles are by a spectrum of people from liberals to alt-right writers.
There are two main issues the novel talks about–one is about religious fundamentalists and the other is about how dysfunctional families can have an impact on children. The latter is more understated than the former, though.
Pop Star Jihadi holds a mirror up to American society as it is now. It shows how quick we are to vilify a religion that's not our own. It's a realistic portrayal of how a few bad seeds in a religion can make a majority of people want to throw out the entire barrel.
The book also touches on the long-lasting mental effects of dysfunctional families and broken homes, but fundamentalism remains the focal point throughout. I get that it's the more important aspect, but I would have loved to read more about Noah's own childhood situation too. It would have added more colour to a reader's understanding of why he did what he did.
Rating: 4 out of 5
~ Shruti