I received a copy of this book from the publisher in exchange for an honest reviewer. All thoughts and opinions expressed here are my own.
Edit: This blog post was initially titled "Hey Tweet Cute, I Want My Wig Back". I've since come to know that it doesn't have its origin in stan culture as I'd thought, but AAVE. I removed the phrase altogether right away. I deeply apologise for my ignorance.
Listen. LI-sten.
Before we go into why exactly I loved Tweet Cute, we need to discuss my favourite topic of all time–myself.
One of my absolute favourite movies is You've Got Mail. And not just because I love Tom Hanks and Meg Ryan together. I've watched the movie a gazillion times and I always swoon at "I wanted it to be you. I wanted it to be you so badly." Oh, and I also whisper most of the lines to myself when I watch the movie. (Honestly, this is going from cute-anecdote-about-self to sad-single-lady-destined-to-own-eleven-cats real fast.)
Anyhoo.
I've always wondered how You've Got Mail would play out in the current day. Because there needs to be a certain degree of anonymity for the plot of an online romance between two people who are rivals to work. And anonymity is just not possible when you consider the state of social today.
Enter Emma Lord.
In Tweet Cute, the main characters Pepper and Jack are chatting to each other on Weazel, an anonymous chat app Jack has secretly built for their classmates. But just like in You've Got Mail, Pepper and Jack are actually rivals. Instead of Fox Books, we have the very subtly titled Big League Burger which Pepper's family owns. And of course, The Shop Around the Corner is Girl Cheesing, a deli owned by Jack's parents.
When Big League Burger introduces a new grilled cheese sandwich eerily similar to Jack's grandma's recipe, he naturally gets angry and makes the first move in a viral twitter rivalry. (Sidenote: Tweet Cute had me at the first tweet: a Sure, Jan GIF.)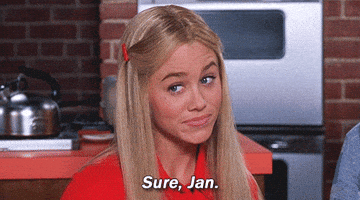 I remarked on Instagram yesterday that Emma Lord took my entire personality and made a book out of it. For you see, it's not just the You've Got Mail bit that this book has.
It's chock full of Mean Girls references because Pepper is a huge Mean Girls fan. Just like moi.
Oh and hello, I work in social media analytics. Seeing how brands tweet is literally part of my day job. I'm a sucker for fast food brands with sassy tweets (looking at you, Wendy's!). I mean, when I wrote this blog post at work about brands everyone should follow on social, my quip for Wendy's was "I want to slide through both their drive-thru and their DMs". (It didn't make the final cut because of some nonsense about "being professional" and "keeping it in my pants". Whatever.)
And then there's Moonpie. Sweet, sweet Moonpie. Literally my favourite brand on Twitter and whose social media manager I'd love to bone meet.
So yeah. Are you even surprised I loved this book? Of course, Emma Lord's amazing writing also helped, but the storyline was basically made for me.
In addition to all the Twitter drama, snappy comebacks, and cute romance, Tweet Cute really worked for me because of the family drama too. Pepper's family is slowly crumbling and there's nothing she can do. Jack is feeling the weight of all the resentment he's held in about his parents treating his twin Ethan like the golden child. This is not just a new-age drama about social media and anonymous apps, it's also quite the family-focused story. And therein lies the beauty of this book.
Oh, and the banter. If nothing interested you at all up until now, Tweet Cute definitely should be read for the banter in it. If I were the official Banter Quality Inspector (I've repeatedly been told I'm not and it's not even a thing), I'd rate the banter in this book a 9/10.
If I looked at this book with my critical reviewer eye, I would most certainly point out a couple discrepancies that happen in the last quarter of the book. I definitely raged about one particular moment where Pepper was unfairly treated but she just didn't seem to get as angry about it as she usually reacted to such moments initially in the book.
But other than these two moments, the story was extremely enjoyable, and not just because it checked all the boxes on the "What makes Shruti, Shruti" list.
Tweet Cute felt like a warm hug on the particularly crappy day I was having when I read it. I could never fault it for anything at all because it was the exact pick-me-up I needed and it gave me all the feels I got when I watched You've Got Mail for the first time.
Rating: 4.5 out of 5
---
~ Shruti